How Canadian Marketers Can use AI-powered Innovations to Boost Their Brands
If you registered for the live event at the time, then please use the same link and access code to rewatch a recording of the live event video stream!
The Ontario Pharmaceutical Marketing Association's next virtual session will explore how Canadian marketers can use AI-powered innovations to boost their brands. The panel discussion will be moderated by Jennifer Meldrum, Co-Founder & Managing Partner, PEAK Pharma Solutions Inc.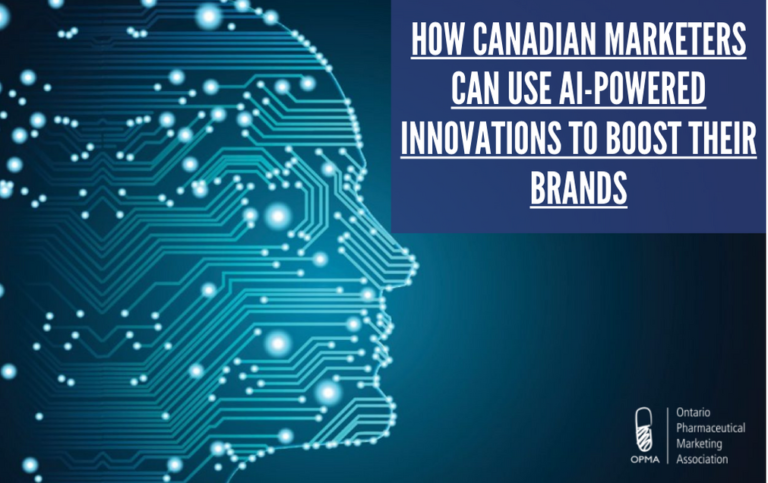 Speakers
Don Watts

President, Khure Health

Don has a 20+ year background in Pharmaceuticals and Medical/Surgical Businesses. His Sales and Marketing Management experience was built during his time with Organon Biosciences, and leading business units at Bausch and Lomb, and Medtronic in Canada. Most recently Don was VP, Sales and Marketing at Fresenius Medical Care, focused on dialysis and specialty renal pharmaceuticals.

Don joined Khure Health as its President in early 2020 and found it to be exactly what he had prepared himself for over his career. "We're harnessing the power of AI and advanced algorithms on our clinical intelligence platform to leverage the vast amounts of data within the EMR. As a result, we are helping technology-enabled physicians practice personalized medicine and significantly improve their care of complex patients…with the click-of-a-button. We are also helping innovative pharmaceutical manufacturers flip the traditional model on its head and positively disrupt their strategic approach to effectively and efficiently growing their business. Using our advanced technology, we can achieve more in one hour with a physician than years of traditional approaches.

Jennifer Meldrum

Co-Founder & Managing Partner, PEAK Pharma Solutions Inc. / President, OPMA

Accomplished pharmaceutical executive with demonstrated experience in the area of sales, marketing, operations, and business development. Hands on experience and skills in optimizing people and processes to achieve organizational excellence. A leader who creates a culture of integrity, transparency, collaboration and reward. Proven success in establishing strategic partnerships with customer centric solutions with the organization she co-founded: PEAK Pharma Solutions Inc.

Orchid Jahanshahi

Founder, ThinkrBelle

As a seasoned commercial leader in Pharma & Biotech, I bring a unique cross-expertise between the Life Sciences and Tech/Startup communities. With deep experience in Marketing Management, Sales Management and Global Brand Strategy at six Fortune 500 pharma companies, I helped bring numerous specialty and primary care treatments to healthcare professionals and patients across various therapeutic areas including Neuroscience, Multiple Sclerosis, Cardiovascular, Wound Care, Oncology and Hematology.

With 25+ years' experience in Canada and US in Global Portfolio Strategy, Lifecycle Management, Launch Planning, Sales Engagement and Patient Support Programs, I am seen as a globally-minded leader who moves efficiently between strategic and operational business imperatives.

In 2020, I pivoted my career to the artificial intelligence space at two separate start-ups — to bring the ethical use of AI to healthcare applications (at NuEnergy.AI), and to unleash the power of AI-powered predictive analytics through human-centric pharma tech solutions for the life sciences sector (at ODAIA Intelligence).At ODAIA, I built a strong team of Sales, Operations and Customer Success associates, leading to the 800% YOY growth in only 2 years.

Through my new venture ThinkrBelle and as Mentor to the CDL biomedical engineering cohort, I am actively engaged in advising and investing in early-stage companies that use AI and tech to advance healthcare solutions to reduce patients' time to therapy..

I have a proven eye for organizational talent, having led critical change by nurturing associates' sense of purpose, while coaching for stellar business targets. As the cross-company Champion for Diversity, Equity and Inclusion, I led various educational forums and managerial training at Novartis Canada, and remain deeply committed to DEI as core organizational values.

I volunteer on the Board of Directors of Kinark Child & Family Services, a leading organization devoted to mental health of children and youth in Ontario, Canada.

Shawna Boynton

Omnichannel Marketing Manager, Novo Nordisk

With eight years' experience in the pharmaceutical industry, three years in consumer packaged goods and my own fitness business, I am an accomplished, innovative, and forward-thinking sales and marketing professional who craves leadership to motivate others to reach their full potential. I thrive in a fast-paced environment where change occurs quickly and thinking is challenged to enable innovation for business performance. I love to keep score and be the best at any task I am handed. Finally, relationships with my business partners and clients is what I am known and respected for. I believe in people first will manifest positive change and buy-in to propel personal and business goals forward.